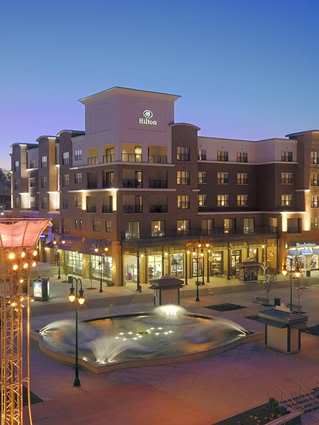 Summer is a great time to think about visiting Branson, Missouri. If you haven't been there, then I would encourage you to consider a family getaway to this exciting area. There is something for everyone here so you really can't go wrong. You've got two great choices in Branson…and they are the Hilton Promenade at Branson Landing and the Hilton Branson Convention Center Hotel. Either of these hotels would be a treat to stay at.
My hubby would be there for the golf of course…me, I'd be taking in the shops and boutiques. The kids…there's plenty for them to do and see as well. The theme parks and entertainment options in Branson are limitless! The one time we were there, I recall everyone being very happy with the things we found to see and do. As long as hubby has a golf course and I can find a museum or boutique we're good!
I was just reading about some awesome packages offered at the Hilton Promenade at Branson Landing. Listen to these! There is a "Golf Package," a "Third Night on Us Package," and even a "Romance Package." Are these enough to entice you?
Let's see…a good itinerary for us would be:
Golf
Shop
Golf
Shop
Eat
Shop
Golf
Play
Eat
How does that sound?